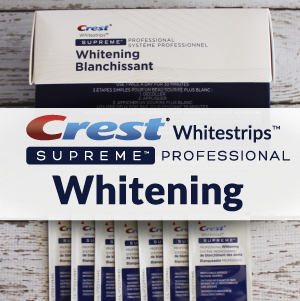 You can now whiten your teeth effectively at home! No dental impressions needed, and you can see results in just 3 days!
Crest Whitestrips Supreme contains 14% Hydrogen Peroxide tooth whitening power—the highest concentration of take-home product available from Crest and the same gel formula dentists use. Crest Whitestrips Supreme is not available in retail stores and they are 80% more effective than Crest Whitestrips available in stores and 43% better whitening than Professional Crest Whitestrips.
How Do The Strips Work?
Crest Whitestrips Supreme are thin, flexible strips that are coated with tooth whitening gel and designed to conform to the shape of your teeth. The strips work by keeping the whitening gel on your teeth to provide strong effective teeth whitening. The upper strips are 14% longer, and the lower strips are 18% longer, so they whiten up to 18 teeth.
Are the Strips Safe to Use?
Whitestrips have the whitening gel already added to them so they deliver a consistent, controlled dose each time—they are ready-made so you can use them right away. The strips don't have to be loaded before every use like trays do, which can cause oral irritation if too much gel is added. They are also portable enough to be used anywhere and at any time during the day.
3 Simple Steps to a Whiter Smile
Step 1: Peel
For best results, do not brush your teeth immediately before applying the strips. Open the foil pouch and remove the slip. Peel the strip from its backing.
Step 2: Apply
Apply the gel side of the strip to your teeth and align it with your gum line, pressing gently for good contact. Fold the remaining strip behind your teeth to keep it in place.
Step 3: Reveal
Wear your whitestrips for the recommended time, then carefully remove them and discard. Rinse your mouth and brush your teeth. Enjoy your new smile.
For best results, Crest Whitestrips Supreme should be worn for 30 minutes once or twice a day. Use Crest Whitestrips Supreme as needed to maintain whiteness. If your teeth are significantly discolored, you may need to use two boxes of Crest Whitestrips Supreme initially to get the desired result.
For more information, please fill out the form below.